Build Your Future @ Rosati Group
Our greatest assets are our people.
For over 50 years Rosati has grown and fostered a culture of talented, energetic, creative and skilled people. As you would expect from a company that frequently appears on Canada's Top Contractors list, growth is always top of mind at Rosati Group.
We have an incredible team here at Rosati Group which has accelerated us to where we are today. To continue to accelerate to new heights we're constantly looking to add to our team and invest in our people.
As a second-generation, family-run company, we pride ourselves on our commitment to our employees and a family-based culture that we hold. We are always looking for opportunities to give back, and help to our team members advance their careers within our company.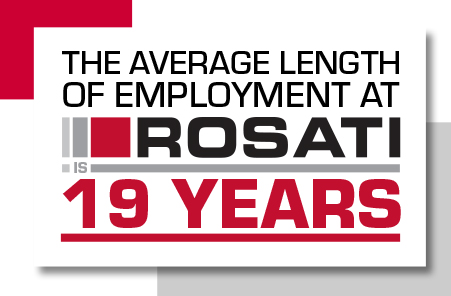 Current Career Opportunities
Rosati is always looking for the folowing positions: Masons Carpenters General Labourers
Learn More »
Rosati is a family run business since 1969, based in Windsor, servicing Southwester Ontario we are a Design Build Contractor specializing in manufacturing plants, warehousing,
Learn More »